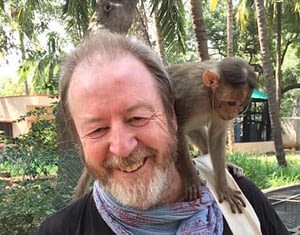 Richard Paterson – Spiritual Life Coach, Mindfulness Teacher, Author and Ex-Monk
Hi! I'm Richard, creator of Think Less And Grow Rich.
I'm happy you found the site.
For the past 16 years, I've been helping people with busy minds find more peace, joy and inner freedom—to awaken to a richer, more authentic experience of life.
A Little Bit About Me
Captivated by the book "Autobiography of a Yogi" by Paramahansa Yogananda, I set off for India in my early 20s to learn to meditate.
Over the years, I had many different jobs— musician, taxi driver, workshop leader, Reiki healer, Shiatsu practitioner, numerologist and business owner, to name a few
No matter what I did, however, there was always a part of me that felt dissatisfied—that felt something was missing. There was a void inside me that nothing on the outside could fill.
Maybe you can relate?
I wanted a break from my busy mind. I wanted to be happy—not the fleeting kind that comes and goes as an experience—but the true, uncaused happiness that radiates from within.
I spent a lot of time in India, visiting the ashrams of several well-known spiritual teachers, sometimes staying for months on end.
The book, "The Power of Now" by Eckhart Tolle had a huge impact on me when it first came out.
I found the idea that we're "not our thoughts or emotions but the awareness behind them" pretty mind-blowing (pun intended!)
And my mind was further blown in 2004, when I enrolled on a 6-month meditation retreat.—and finally grasped the cause of the void as well as the remedy.
My first book "Kick The Thinking Habit" is all about what I learned on the retreat.
I had learned the 'secret' (it's not really a secret as it has been around for centuries) to quieting the mind and healing the inner void and now felt a deep desire to share what I'd learned with others.
I took vows as a monk, received a spiritual name and moved to Mexico, where I lived in a meditation centre for several years, teaching and running retreats.
Fast-forward 16 years and I've added one-to-one Spiritual Life Coaching and Mindfulness Training to my offerings. *
*I completed the UK Mindfulness Association's two-year training program in 2016 and became a certified teacher.
I live with my partner Susanne on the edge of a beautiful forest in Scotland and continue to go to India each year to meditate, write and study Advaita Vedanta (non-duality), the ancient teaching I've been practising for over 20 years.
Why The Name Think Less And Grow Rich?
Inside every one of us, beneath the level of the mind, there is a treasure trove of uncaused peace, joy, love and perfect contentment waiting to be discovered—your true Self.
Why are we not aware of it?
Because our busy thinking minds produce so much noise, so much static that we fail to notice the stillness underneath.
The key to unlocking the treasure within is to quieten the thoughts and discover what remains when the mind is still.
This forms the basis of my spiritual life coaching work.
As Eckhart Tolle says:
'The most decisive moment in your life is when you discover you are not your thoughts or emotions. You can be present as the awareness behind thoughts and emotions."
Hopefully, the blog will help you on your way.
Subscribe To My Newsletter
I warmly invite you to subscribe to my blog by entering your email address in the form below.
Every couple of weeks or so, I'll send you my latest post, revealing practical steps you can take to experience more peace right away.
You will also receive a FREE copy of my guide: "7 Ways To Bulletproof Your Inner Peace… Whatever The Mind Throws At You."
You'll be able to download it straight away.
It is my sincere hope that I can be of help on your journey towards creating the rich life you long for.
Feel free to email me at [email protected] with any questions OR if you'd like to arrange a FREE consultation.
Peace, Richard